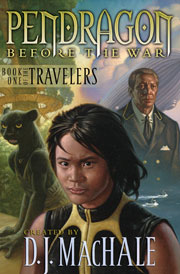 Pendragon Before the War: Book One of the Travelers is the first Travelers book.
| | | |
| --- | --- | --- |
| | This book follows Kasha, Spader, and Gunny in three adventures of their lives in their home worlds. In Gunny's volatile 1935 New York, a friend is falsely accused of murder, putting Gunny in the center of a heated conflict. Back is the forests of Eelong, Kasha starts to see changes in her father Seegen - and some of the games she took for granted. And Spader's getting an aquaneer's education in how to deal with raiders. Hobey ho, mate! | |
Ad blocker interference detected!
Wikia is a free-to-use site that makes money from advertising. We have a modified experience for viewers using ad blockers

Wikia is not accessible if you've made further modifications. Remove the custom ad blocker rule(s) and the page will load as expected.